Our dedication to high quality and safety begins in the research laboratory and continues through manufacturing and delivery of our multivitamins to you. With this focus, we take pride in being the #1 doctor recommended multivitamin brand1, built on a foundation of science & quality, which delivers you multivitamins in the forms and with the features you prefer.

Science Based

Backed by over 35 years of nutritional science investment and research
The most clinically studied multivitamin in the world

2



Centrum's Quality Assurance

Strive to achieve high quality standards by meeting the requirements established by Health Canada and other applicable industry standards for dietary supplements

Guarantee that all label claim ingredients are present at the required quantity through the expiration date.

Established supplier quality management system to ensure the quality and purity of our raw materials




Consumer Preferred


The #1 selling multivitamin brand in Canada

3

Formulas customized for age, gender and relevant benefits

NOW verified Non-GMO & Gluten Free!



Now verified non-GMO & gluten free!
We recognize that some consumers are looking for products where less is more. That's why we have verified that the following products are made without ingredients that are genetically engineered (non-GMO) and are Gluten Free. The formulas verified as non-GMO & Gluten Free are:
Centrum Men 50+
Centrum Women 50+
Centrum Men
Centrum Women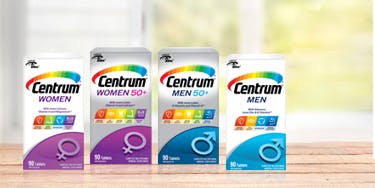 What Do We Mean by "Gluten Free"?


By gluten free we mean that the product is free of gluten proteins from the following grains: wheat, rye, barley, oats including triticale, kamut, spelt as well as any modified gluten protein from those grains AND the gluten levels of the finished product is below 20 ppm.

What Do We Mean by "Non-GMO"?


When we refer to "GMO" (otherwise known as "genetically modified organism"), we mean an organism that was modified through genetic engineering, or other scientific means, that alters its natural state to one that could not have occurred naturally.

Centrum Non-GMO Standard


It is important to note, there is currently no official Canadian non-GMO definition. We've based our non-GMO standard on a careful evaluation of Health Canada guidance documents, existing and proposed standards from within and outside Canada and standards set by independent organizations.

Our non-GMO standard requires sourcing non-GMO by origin ingredients for our verified products. This means we use an original seed source that is conventionally grown (not genetically engineered) for our ingredients. Our verification is based upon a thorough evaluation of supplier documentation confirming the non-GMO status of the ingredients that make up our products.

Non-GMO by IP refers to non-GMO by Identity Preservation. This requires practices and processes for controlling contamination from at-risk GMO inputs and ingredients. While non-GMO by IP is acceptable for our standards, it is not required. PCR (Polymerase Chain Reaction) testing is a method of detecting genetic material in products. A PCR(-) finding alone is not sufficient to ensure that a product is non-GMO. In certain cases, testing may be used as a verification tool.

We allow for the use of fermented ingredients or processing aids that are genetically engineered, as long as the genetic material from the processing aid is removed from the finished ingredient and is not present in the final product. For example, some B Vitamins (riboflavin and vitamin B12) are produced using a fermentation process that employs a genetically-engineered processing aid. In the PCH non-GMO standard an ingredient manufactured using the genetically-engineered processing aid, such as riboflavin and B12, would not be considered genetically-modified as long as the nutrient medium is conventional (not genetically engineered) and the genetically-engineered processing aid is purified out such that residual GE DNA is present at <0.9% in the ingredient.

Processing Aids


In Canada, there is no regulatory definition for processing aids. However, the Food Directorate of Health Canada has defined a processing aid as a substance that:

is used for a technical effect in food processing or manufacture;
when used, does not affect the intrinsic characteristics of the food; and
when used, results in no or negligible residues of the substance or its by-products in or on the finished food.

1 Based on IMS Health Data dated March 2020
2 Data on file
3 Centrum calculation based in part on data reported by Nielsen through its Market Track Service for the Adult Vitamins Category for the 52-week period ending 10/31/2020, for NAT GBMMDR excl. NFLD according to the Nielsen standard product hierarchy. Copyright 2020, The Nielsen Company