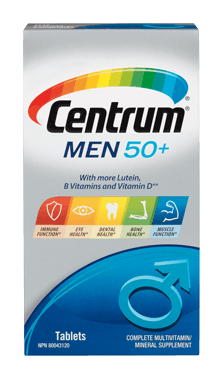 A multivitamin specially formulated for men over 50.
Centrum Men 50+ is formulated with more Lutein, B Vitamins and Vitamin D than Centrum Select Essentials 50+ to help address the nutritional needs of men over 50.
Helps maintain bone and dental health, maintain proper muscle function, eyesight, and support the immune system
Contains more Lutein, B Vitamins, and Vitamin D than Centrum Select Essentials 50+
A formulation of vitamins and minerals to support good health
Dosage
Adults (50 years and older): One tablet daily with food. Take a few hours before or after taking other medications or natural health products.




Nutrient info
Per Daily Dose.
Do not exceed the recommended daily dose. If taking other supplements, read label, as other supplements may contain the same ingredients. In case of accidental overdose, contact a health care practitioner or poison control centre immediately. Consult a healthcare practitioner prior to use if you are taking blood thinners. Keep out of reach of children. There is enough Iron in this package to seriously harm a child. Stop use is hypersensitivity occurs

To be sure this product is right for you, always read and follow the label.
* Helps maintain immune function; helps in the maintenance of bones; and teeth; helps to maintain eyesight and proper muscle function..