Centrum Junior
MultiGummies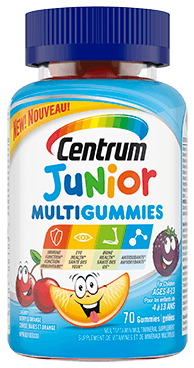 A multivitamin gummy formulated for children 4 to 13 years old looking for a tasty way to take their vitamins
Centrum Junior MultiGummies are multivitamin gummies in great tasting cherry, berry, and orange flavours, providing essential nutrient support in just one gummy.
Helps support the immune system, maintain eyesight, maintain bone health, and provide antioxidants to support good health
A kid's multivitamin gummy available in tasty cherry, berry, and orange
Gluten-Free
Dosage
Children aged 4-13: Take 1 gummy daily with food. Take a few hours before or after taking other medications or natural health products. Instruct your child to chew each gummy thoroughly before swallowing.



Nutrient info
Per Daily Dose.
Vitamin C (ascorbic acid)
Vitamin E (dl-α tocopheryl acetate)
Vitamin A (vitamin A acetate)
Vitamin B6 (pyridoxine hydrochloride)
Vitamin B12 (cyanocobalamin)
Vitamin D3 (cholecalciferol)
Pantothenic Acid (calcium d-pantothenate)
Zinc (zinc sulfate, monohydrate)
Iodine (potassium iodide)
Caution
Do not exceed the recommended daily dose. If taking other supplements, read label, as other supplements may contain the same ingredients. Keep out of reach of children. Not to be administered without the supervision of an adult.
*To be sure this product is right for you, always read and follow the label.