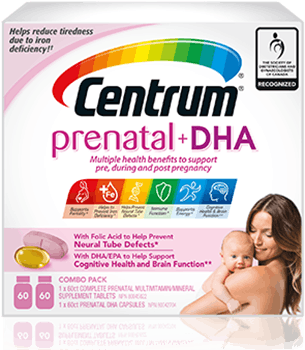 All the benefits of Centrum Prenatal multivitamin plus EPA/DHA to support cognitive health and brain function.
Recognized by the Society of Obstetricians & Gynecologists of Canada (SOGC) as a product that demonstrates reasonable evidence of safety and efficacy.
Centrum Prenatal +DHA provides both a specially formulated multivitamin with 24 essential vitamins and minerals including Folic Acid, Iron, Calcium and Vitamin D, and a small softgel with DHA and EPA, for all stages of pregnancy and while breastfeeding.
Helps prevent neural tube defects1, support the immune system, and maintain normal blood glucose levels
DHA capsule to support cognitive health and brain function
Helps support fertility, reduce tiredness and fatigue due to Iron deficiency anemia, and contains B Vitamins to support energy needs
Health Canada recommends that all women who could become pregnant take a prenatal multivitamin containing Folic Acid to prepare for a healthy pregnancy and reduce the risks of neural tube defects1
Omega-3 fatty acids, including EPA and DHA, are important not just for the maintenance of good health, but also to support cognitive health and brain function
Dosage
Adults: One multivitamin tablet and one DHA softgel daily with food. Take a few hours before or after taking other medications or natural health products.





Nutrient info
Per Daily Dose.
Do not exceed the recommended daily dose. If taking other supplements, read label, as other supplements may contain the same ingredients. In case of accidental overdose, contact a physician or poison control centre immediately. Consult a healthcare practitioner prior to use if you are taking blood thinners or to exclude the diagnosis of a serious cause of infertility. Keep out of reach of children. There is enough Iron in this package to seriously harm a child. Stop use if hypersensitivity occurs.

To be sure this product is right for you, always read and follow the label.
Centrum Prenatal Tablet: * Helps support fertility; helps to reduce tiredness and fatigue caused by iron deficiency anemia; helps to reduce the risk of neural tube defects when taken daily prior to becoming pregnant and during early pregnancy; helps to maintain immune function; helps support energy needs.
Centrum DHA Capsule: **Helps support cognitive health and brain function.
1 Health Canada. Prenatal Nutrition Guidelines for Health Professionals: Fish and Omega-3 Fatty Acids. Available at http://www.hc-sc.gc.ca/fn-an/alt_formats/hpfb-dgpsa/pdf/pubs/omega3-eng.pdf Accessed 4 November 2013.