Centrum Adult MultiGummies Tropical
Fruit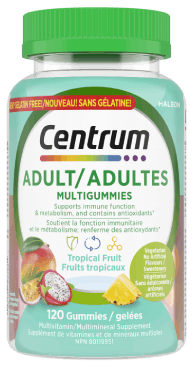 Centrum Adult MultiGummies in Tropical Fruit Flavours
Looking for a sweet escape? Centrum Adult MultiGummies in Tropical Fruit flavours will take you away with bursting tropical fruit flavours. Packed with 11 essential nutrients, these daily gummies are made with wholesome ingredients, with no artificial flavours, sweeteners, or colours. It's a daily multivitamin that's carefully crafted to provide a high quality supplement for adults.
A daily multivitamin for adults crafted to support immune function & metabolism, and contains antioxidants.
Contains Vitamin D3 to support bone health and B12 to support metabolism.
Formulated with antioxidant vitamins C and E, and Zinc to support immune health.
Delicious tropical fruit flavours: Pineapple Mango, Passionfruit, & Dragon Fruit.
Pectin Base Gummy (Vegetarian).
Gluten free and gelatin free.

IMMUNE HEALTH
Vitamins C and D and Zinc support normal immune function.*

ANTIOXIDANTS
A source of antioxidants that help protect against cell damage caused by free radicals.*

METABOLISM
B-Vitamins aid in the metabolism of fats, carbohydrates, and protein.*
Vitamin A
Vitamin A to support vision and immune health.*
Vitamin C
Vitamin C is an antioxidant that supports immune health and helps to build strong bones.*
Vitamin D
Vitamin D helps in the development and maintenance of bones.*
Vitamin B12
Vitamin B12 is a water-soluble B-Vitamin that helps support energy metabolism.*
Zinc
Zinc helps support immune health, energy metabolism, and tissue formation.**
Dosage
Adults (19 years and older): Take two (2) gummies per day. Not formulated for use in children. Do not exceed recommended dose.
Q: What is the best time of day to take Centrum MultiGummies?
A: The fat-soluble vitamins A, D, and E are best absorbed with some fat. Therefore, take your Centrum MultiGummies with food. You may also want to take your Centrum MultiGummies at the same time each day to make it part of your daily routine.
Q: What are the tropical fruit flavours in Centrum Adult MultiGummies?
A: The tropical fruit flavours in Centrum Adult MultiGummies are pineapple mango, dragon fruit, and passionfruit.
Need Help Finding a Centrum product that could be Right for You?
Use our handy product finder to help you choose a supplement that can be right for you and your family.
Caution
If taking other supplements, read label, since supplements may contain the same ingredients. Do not exceed recommended daily dose. Keep out of reach of children.
To be sure this product is right for you, always read and follow the label.
*Helps maintain immune function. Helps in energy metabolism in the body. An antioxidant for the maintenance of good health.