Centrum Minis Immunity
Women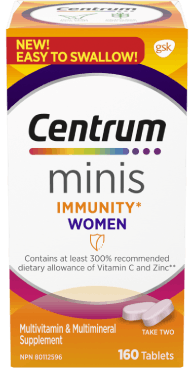 A multivitamin and multimineral supplement specially formulated for immune support in women, now in an easy-to-swallow mini tablet.
Nourish your good health with two (2) easy to swallow tablets of a multivitamin specially formulated for immune support in women. Centrum Minis Immunity Women is a multivitamin that's made with immune supporting ingredients like Vitamin C and Zinc along with other essential nutrients to make a multivitamin tailored for women.
Helps support the immune system, bone health, eye health, and healthy skin*
Contains at least 300% recommended dietary allowance of Vitamin C and Zinc**
Comes in easy-to-swallow mini tablets
Centrum Minis Immunity Women offers the following benefits for women's health and wellbeing:



Dosage
Adults (19 years and older): Take two tablets daily. Take with food, a few hours before or after taking other medications or natural health products. Duration of Use: Consult a healthcare practitioner for use beyond 6 months.
Q: How do the ingredients of Centrum Minis Immunity Women differ from the Centrum Women Tablets?
A: Centrum Minis Immunity Women has higher levels of ingredients like Vitamin C and Zinc, compared to Centrum Women.
Need Help Finding a Centrum product that could be Right for You?
Use our handy product finder to help you choose a supplement that can be right for you and your family.
Caution
Do not use this product if you are pregnant or breastfeeding. Do not use with other zinc containing products. If taking other supplements, read label, since supplements may contain the same ingredients. Consult a health care practitioner prior to use if you are taking blood thinners. Stop use if hypersensitivity occurs. Do not exceed recommended daily dose. In case of accidental overdose, contact your health care practitioner or poison control centre immediately. Keep out of reach of children. There is enough iron in this package to seriously harm a child.
To be sure this product is right for you, always read and follow the label.
*Helps to support immune function. Helps support bone health. Helps to maintain eyesight. Helps to maintain healthy skin.
**Contains 347% Recommended Dietary Allowance (RDA) of Zinc and 300% of Vitamin C. RDA for adult females is 8 mg/day for Zinc and 75 mg/day for Vitamin C. The RDA for each medicinal ingredient in the product is available HERE.