Centrum

Multi+Probiotics: 2-in-1 multivitamin and probiotic supplement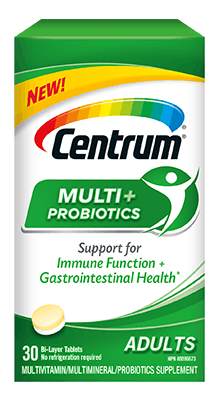 Discover the benefits and convenience of a multivitamin and a probiotic in one bi-layer tablet!
Centrum's new Multi+Probiotics is a 2-in-1 supplement composed of 18 micronutrients, including zinc and vitamins C and D, to support immune function and 1 billion CFUs of BB-12® to support gastrointestinal health. What's more? This unique, bi-layer multivitamin plus probiotic tablet is specially formulated with Vitamin A to support eye health and B-vitamins to aid in energy production and metabolism.
Contains the benefits of a separate multivitamin and probiotic in one convenient dose

Each tablet contains a guaranteed 1 billion CFUs of BB-12® probiotic strain, the world's best documented probiotic Bifidobacterium

Formulated with 18 nutrients, including Zinc and Vitamins C and D, to support immune function

Helps support eye health and aid in energy production and metabolism

Dosage
Adults: One tablet daily with food. Take a few hours before or after taking other medications or natural health products. Take at least 2-3 hours before or after antibiotics.
Want to learn more about probiotics? Check out this infographic!




Nutrient info
Per Daily Dose.
Vitamin C (ascorbic acid)
Vitamin A (vitamin A acetate)
Vitamin D3 (cholecalciferol)
Vitamin E (dl-α tocopheryl acetate)
Vitamin B1 (mononitrate de thiamine)
Pantothenic Acid (calcium d-pantothenate)
Vitamin B6 (pyridoxine hydrochloride)
Vitamin B12 (cyanocobalamin)

Iodine (potassium iodide)
Chromium (chromium chloride, hexahydrate)
Manganese (manganese sulfate)

Selenium (sodium selenite)
Bifidobacterium animalis subsp. Lactis (BB-12®)

Do not exceed the recommended daily dose. If taking other supplements, read label, as other supplements may contain the same ingredients. Consult a health care practitioner prior to use if you have fever, vomiting, bloody diarrhea or severe abdominal pain. Stop use and consult a health care practitioner if symptoms of digestive upset occur, worsen and/or persist beyond 3 days. Keep out of reach of children. Do not use this product if you have an immune-compromised condition.
To be sure this product is right for you, always read and follow the label.